Digitemp Electronic Temperature Controller
The Digitemp is a permanent display electronic temperature control device designed to safeguard your installation against fluctuations in temperature.
It is fully programmable and ideal for line (pipe) or ambient air sensing trace heating applications, switching heaters, trace, fans and alarms.
Please call today on 01403 823 560 or use the Get a Quote page for pricing information.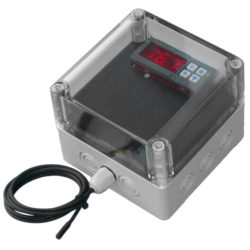 Features
With a 20 amp rating and a range from -50 degrees to +150 degrees (accurate to within 1 degree) the Digitemp is a versatile, robust and reliable controller for the price of a mechanical controller.
It is factory set to switch on at ambient temperature 5 degrees and pipe sensing 3 degrees – however it can be easily reprogrammed by the operator.
Up to three separate heater outputs.
Bright LED display.
Waterproof (IP67)
Volt-free Contact Output
Specification
Display/Range/Accuracy
Red 15mm high LED characters / Measuring range -50°C to 109 °C / +1°K
Display Resolution
0.1°C resolution (-19.9°C to 19.9 °C) - 1°C resolution (20 °C to max range)
Sensor
Standard sensor N.T.C. (103 AT-2, 10k ohms@25 °C ) IP 68 sealed (PTC -50 °C to 150 °C to order)
Sensor Length
Standard length 1.5m (Available up to 45m)
Enclosures
IP67, Polycarbonate box with clear lid and mask
Dimensions
125mm x 125mm x 100mm
Operating Temp
-10 °C to +60 °C
Cable Entries
6 x 16mm/20mm dual size knockouts or 4 x 25mm available
Power Rating
20 amp
Consumption
2va
Supply Voltage
230vac (110 volt available)
Factory Set Points
Pipe sensinq + 3°C (operator changeable)
Air sensing + 5°C (operator changeable)
Hysteresis
+ 2°C (operator changeable) range 0.1 – 30°C
Option
Power available volt free contact